Welcome
THE 7th EDITION WILL GO ON!


In solidarity with those people who are suffering at this time, we have taken the decision to maintain our event that opens on Friday.
We consulted with the Paris Police, the Mayor's office and the owners of the theater venue Les 3 Luxembourg and all agree: Middle East: What Cinema Can Do is upheld from Nov 20 – 29.
It will be dedicated to all the victims of terrorist attacks and acts of war, in Paris and Beirut, in Syria, Palestine and the list goes on.
***
Twelve years after it first opened its doors at the cinema art-house Les 3 Luxembourg on Paris' Left Bank, the film event Middle East: What Cinema Can Do will celebrate its 7th edition from November 20 to 29. Present to inaugurate the event will be Leila Shahid (ex-EU Delegate representing Palestine) and Dominique Vidal (journalist/writer), on Friday, November 20.

The opening night film, The Wanted 18 by Amir Shomali, is Palestine's submission to the Academy Award Foreign Language nominations. Completing this more compact yet rich edition are another 35 films that revolve around the 9 evening debate themes focusing on some of the hard subjects of our day: Palestine -Israel, chaos in Libya, the long hard road of women in Egypt, historic accord in Iran, ISIS in Iraq and Syria, refugees, Gaza one year later…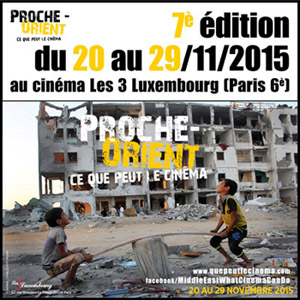 CR Margot Vageois
This year's photo comes to us from UNRWA, taken by a young Palestinian, Khalid Atif Hasan, which won the People's Choice award at the 2014 Youth Photography Competition.
The winning photograph was captured by Niras Said, age 23, in Yarmouk Palestinian refugee camp, near Damascus in Syria. Said is featured in a correspondence with Ramallah in the film, Letters from Al Yarmouk by Rashid Masharawi on this year's film program.

The closing film is a fiction feature, Eyes of a Thief by Najwa Najjar has been shown all over the world but has not come out yet in theaters in France.

This ten-day event will allow audiences to see many films shown in France for the first time and discuss a range of topics with filmmakers and specialists participating in the debates or Q&A at each showing. It is a rare occurrence to witness such a mix of Middle Eastern artists and to view films from Egypt, Iraq, Iran, Israel, Lebanon, Libya, Palestine and Syria on the same program.

See you in November!