Middle East: What
Cinema
Can Do
is proud to present 60 films over a 14-day period. One third of the films are shorts and two-thirds are documentaries, each painting a different facet of the bigger picture. Docu-fiction works are more and more prevalent as filmmakers begin to portray the reality in their countries, searching new ways to communicate their messages. The TV format has also become a popular form of expression and outlet to get films seen; a dozen will be screened. A number of features, both fiction and documentary, will be seen at the festival before being released in theatres next year.
From the more than 150 films previewed, the films chosen illustrate the daily theme in which they will be shown, from Iraq and Kurdistan to Syria and Lebanon, Iran, Israel, Palestine, Gaza, Jerusalem, but also the Arab Spring, Women, Strangers in their own land Ö.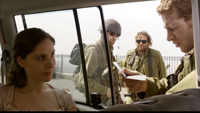 Screening date : 11/12/2009 -- 20h30

Tanathur / Last Days in Jerusalem

Nour and Lyad, a Palestinian couple living in East Jerusalem, are preparing to immigrate to Paris. He is a surgeon at the height of his capacities; she a seductive, independent, fanciful actress, a scion of the Palestinian intellectual middle class. On the way to the airport, a terrible accident calls Lyad to hospital duty and puts a halt to their departure.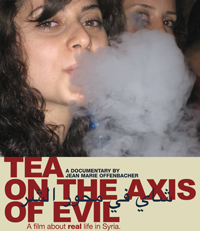 Screening date : 02/12/2011 -- 18h00

Tea on the Axis of Evil

When Syria was admitted to the "axis of evil," American filmmaker Jean Marie Offenbacher moved there to record everyday life in an attempt to counter negative images that dominated the media at a time when the Bush Administration and the US media began referring to Syria and Iran in the same terms that had been used to justify the US invasion of Iraq. Scenes covering a range of social topics reveal a highly educated population from a variety of Christian and Muslim sects, who coexist harmoniously in a country that values family and education over religious dogma.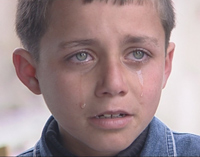 Screening date : 09/12/2011 -- 20h30

Tears of Gaza

Tears of Gaza is a powerful and emotionally devastating record of the impact of the 2008 - 2009 bombing of Gaza by the Israeli military, as caught by Palestinian cameramen. It focuses on the horrific impact of the attacks on civilians, mostly women and children. Coping with everyday life after a traumatic experience, many survivors of the attacks live in makeshift tents or in the rubble of their former homes, without walls or roofs. They scrape by without money, food, water or electricity. Many have lost close family members. And must raise children maimed for life.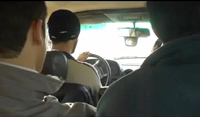 Screening date : 09/12/2011 -- 18h00

Ticket From Azrael

A regular occupation of Palestinians is digging an escape tunnel from Rafah, on the border of Gaza, to Egypt. A powerful and sobering account of the realities of life in occupied Palestine.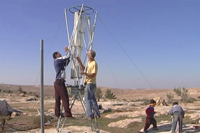 Screening date : 08/12/2011 -- 18h00

La Turbine Humaine / The Human Turbine

What was missing in Noam Dotanís otherwise perfect life? What made him, and others, leave symbols of success and devote themselves to a renewable energy project in a Palestinian village? They work through action, rather than through protest or demonstrations. Three years in the making, in joint meetings with local residents, they created a renewable energy project at Susia. They succeeded in supplying electricity for residents living in tents and caves, figuratively and literally lighting up their lives.